Expires: Tue, Dec 13, 2016
If playing in the new port-side snow, mind the possible build-up and funneling of loose sluffs in steep terrain. Vegetation and rocks are also not too far below the surface in the lower elevations.
Up on the pass, where less snow accumulated and strong winds have persisted, keep your senses tuned into the the variable conditions and old wind slabs resting on a poor sugar snow (facets) structure. This structure will not improve in the near future.
Monitor and keep tabs on this persistent slab problem which can be elusive and catch you off guard.
This last week left us with many natural and a handful of human/machine triggered avalanches in the mid and upper elevations on Thompson Pass.
1,800 to 2,500ft
Moderate
Degrees of Avalanche Danger ?
1. Low
2. Moderate
3. Considerable
4. High
5. Extreme
Problem Details
GENERAL DANGER RATING OUTLOOK
SATURDAY
SUNDAY
MONDAY & TUESDAY
WIND & PERSISTENT SLAB:
Elevation: Above 1800′ in the alpine
Aspect: All where exposed to wind, particularly south and west
Terrain: Ridgelines, rollovers, cross-loaded features
Sensitivity: Stubborn
Distribution: Specific features
Likelihood (Human Triggered): Possible
Size: Small to Medium
Danger Trend: Steady
Forecaster Confidence: Fair
Details: On Thompson Pass, an inch or two of new, dry snow with strong winds out of the NE has likely already drifted on top of older wind slabs that often sit on top of weak facets. This will further test our weak snowpack structure throughout our region.
LOOSE DRY (SLUFFS):
Elevation: Above 1000′
Aspect: All with additional loading on leeward slopes
Terrain: Steep & rocky; especially in chutes/gullies
Sensitivity: Responsive
Distribution: Widespread in maritime
Likelihood (Human Triggered): Possible
Size: Small to Medium
Danger Trend: Steady
Forecaster Confidence: Good
Details: 4-12 inches of light (taking into account wind transport), dry snow could move in the steeps and build up speed/power in constricted terrain. This is limited to the maritime, where more snow fell.
AVALANCHE PROBLEM SCALE DESCRIPTORS:
Sensitivity: Non-reactive, Stubborn, Responsive, Touchy
Distribution: Isolated, Specific, Widespread
Likelihood: Unlikely, Possible, Likely, Nearly Certain
Size: Small, Medium, Large, Very Large (size scale <here>)
Danger Trend: Increasing, Steady, Decreasing
Forecaster Confidence: Good, Fair, Poor
LIST OF AVALANCHE PROBLEMS <here>
SNOWPACK DISCUSSION:
Our last significant storm (Nov.30-Dec.1) with strong onshore (SE) winds left us with one to two feet of new snow throughout our region. It was quickly followed by a reversal to extreme outflow (NNE) winds which scoured and loaded many faces for days. These new slabs loaded up on top of mid-pack and basal facets in many areas.
Soon after (Dec.2-4th), many steep, cross-loaded, and top-loaded slopes were naturally and human triggered. A few of these avalanches stepped down to the old weak layers not far below. Both of the mid-pack and ground level faceted (sugar snow) layers have failed easily in tests, some collapsing at the ground.
Since then, a few inches of new, dry snow has fallen on Thompson Pass (~10 inches in the maritime) and immediately began to be drifted with strong outflow winds from the NE. Clear and cold temperatures will continue to dry and weaken (facet) the snow throughout the region, setting us up for another weak layer to be buried with the next large storm.
Find more photos and observations at the bottom of the page. Sharing your observations helps others make informed decisions.
Recent Avalanche Activity
Loose, dry sluffs in steeps near the port and windslabs sitting on weak facets up at Thompson Pass have recently released naturally and by skiers/machines. Please share pics and locations if you find new activity.
20161203 Bald Boy & Adjacent Sympathetic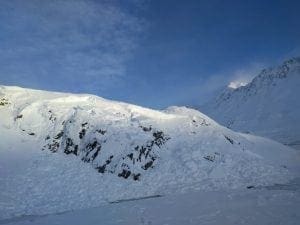 20161203 Triggered from below: Odyssey Lake
Recent Weather
WEATHER FORECAST for NEXT 24 HRS at 3,000 ft:
Temperature Forecast (Min/Max *F):
 -5/0
Ridgetop Wind Forecast (mph):
 20-55/ NE
Snowfall (in):
 0
WIND & TEMPERATURE
past 24 hours
Ferry Terminal
Thompson Pass
Average Wind Speed (mph) / Direction
14 / NE
57 / NE
Max Wind Gust (mph) / Direction
29 / ENE
53 / NE
Temperature Min / Max (*F)
15 / 29
-8 / 3
Cold and clear skies have set in as a strong high pressure starts to dominate inland. This has potential to back down the gap winds pushing through the pass in the near future. Clear skies could remain all week, but it all depends on what happens as storms push in from the Bering Sea and battle against the high pressure ridge. If the storms are able to break through… clouds, warmer temperatures and precipitation could arrive late week.
Additional Info & Media
| | | |
| --- | --- | --- |
| SNOW HISTORY: | Valdez 12/10 AM | Thompson Pass 12/8AM |
| 24 Hour Snow / Water Equiv. |  0" /0″ | 0″ /0″ |
| Storm Snow /Water Equiv. (12/8-12/9) | 10" /0.6″ | 2?″ /0.1?″ |
| Current Snow Depth | 20″ | 18″ |
| December Snow / Water Equiv. | 32″ / 2.2″ | 17″ / 1.3″ |
| Total Winter Snowfall / Water Equiv. | 54″ / 6.3" | 89″ / 9.6″ |
| Snowload in Valdez | 10 lbs/sq. ft. | |
SNOWFALL for LAST 24 HRS at OTHER STATIONS:
Nicks Valley at 4200 ft (in):
0
Upper Tsaina at 1750 ft (in):
0
Sugarloaf at 550 ft (in):
0
| | | |
| --- | --- | --- |
| SNOW DEPTH & WATER SURVEY (12/6/2016) | Depth | Snow Water Equivalent |
| Milepost 2.5 Valdez |  13.2″ |  2.3″ |
| Milepost 18 | 15.4″ | 2.1″ |
| Milepost 29 Worthington Flats | 32.2″ | 6.4″ |
| Milepost 37 Tsaina River bridge | 24.1″ | 4.1″ |
| This survey is done the first week of each month beginning in December. | | |
| | | |
Weather Quicklinks:
SNOW CLIMATE ZONES:
Maritime (Coastal) – from the Port of Valdez to Thompson Pass, all waters flowing into Valdez Arm and everything south of Marshall Pass.
Inter-mountain (Transitional) – between Thompson Pass and Rendezvous Lodge.
Continental (Interior) – the dry north side of the Chugach (north of 46 Mile, including the Tonsina River).
Photo of Thompson Pass <here>
Map of Valdez Forecast areas and recreating zones <here> (Thank you Trevor Grams!)
Run map of some of the forecast area (2MB download)<here> (Thank you Sean Wisner)
NEWS: Our region is "one of the snowiest places on earth" – Serendipity / Rendezvous snowfall record set in 1963 <here>.
Free smart phone avalanche forecasts at: http://www.avalancheforecasts.com/