Expires: Sat, Nov 12, 2016
Degrees of Avalanche Danger ?
1. Low
2. Moderate
3. Considerable
4. High
5. Extreme
Problem Details
Recent Avalanche Activity
Recent Weather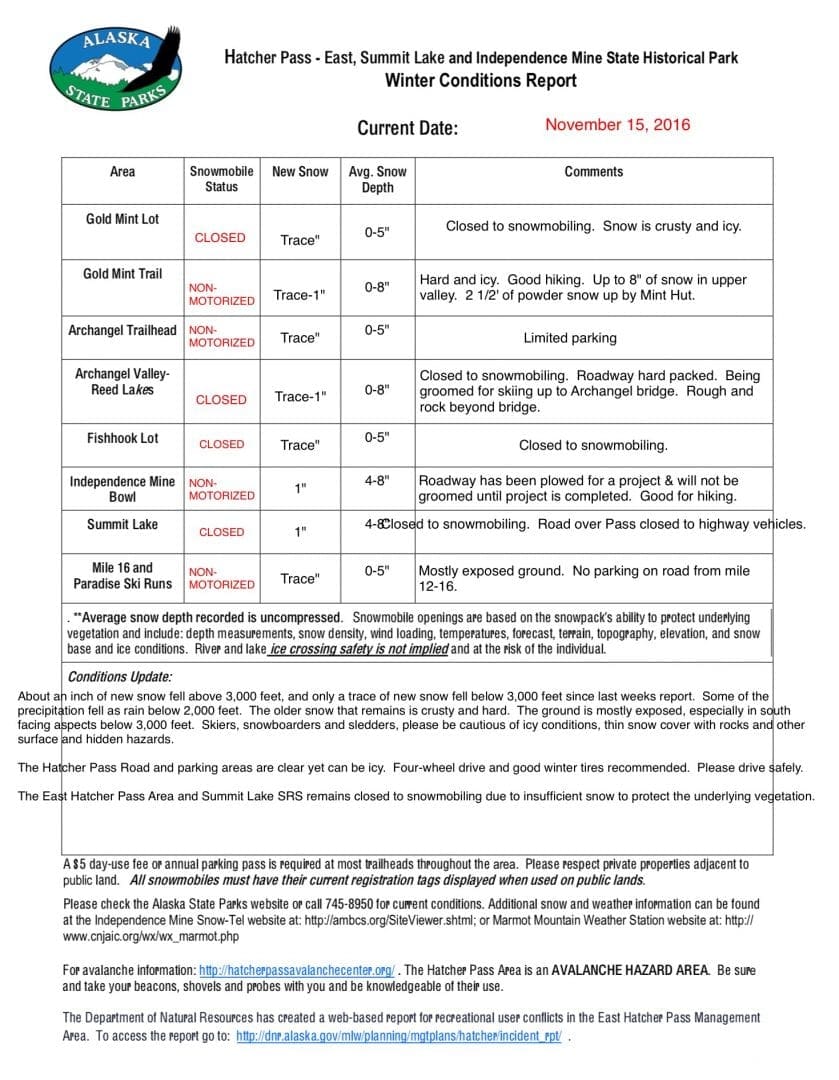 Additional Info & Media

And the winner is…
A huge thank you to all the people who sent in their observations last season! Your observations are critical to HPAC's forecasts and we can't do it without you! The observation platform is your community board for sharing information that everyone can use. It is a place for you to read and find pertinent information before heading into the backcountry.
Options. You can enter an observation on our website, email us at info@hpavalanche.org, or you can tweet us at @H_P_A_C on twitter immediately from the field with cell reception. Set yourself up to tweet us here.
The 2015-16 winter season observation prize is sponsored by the Friends of the Chugach Avalanche Information Center.  Congratulations to Mike Records for submitting excellent observations throughout the season.
We are looking forward to seeing everyone's observations this season.
---
Avalanche advisories are NOT being issued at this time.
Expect advisories to begin mid-November.
Early season conditions can be misleading and often catch people off guard. Remember that even though there is less snow than mid-winter, avalanches can still occur. Begin to use your avalanche eyeballs once snow begins to accumulate on steep slopes. All you need is a slab sitting on a weak layer to create the conditions that can produce avalanches. Remember that most avalanche occur during or within 24 hours of a  snow storm.
This season has brought a common snowpack set-up that can lead to avalanche problems. Early season snowfall accumulates in the upper elevations, usually more on northerly aspects. Cold, clear conditions then persist causing this snow to facet and weaken. Once this weak layer is buried, all you need is a slab to form on top of it for storm snow, persistent slab, and or wind slab avalanches to occur.
If you are out and about HP, send us your observations!