Welcome to the Haines Avalanche Information Center
MEMBER OF


AAIC is a 501(c)3 Non-Profit
EIN# 80-0674646
Anonymous User Poll
None
Short Awareness Course
Level 1
Level 2
Level 3/AvPro/Equiv.


How many years of backcountry snowsports experience do you have?
years
This is a central place for avalanche and snowpack data pertaining to the local mountain areas around Haines, Alaska. On this site you can read about the current conditions and share your observations. User participation is critical to increasing everyone's awareness of current conditions. So please, SUBMIT YOUR OBSERVATIONS (you can do so publicly OR in private via our submission form).
A snowpack summary on the Current Conditions page will be updated as often as possible. Use the data on this website at your own discretion as part of a thorough evaluation of the avalanche hazard in the field.
News:
May 23rd, 2016
This year's Fairweather Ski Works hoodie-winners are Jason Eson and Joey Slowik! Contact us or Fairweather to claim your prize. A big thanks goes out to everyone who submitted observations this year, we can't do it without you!

March 8th, 2016
The Haines Avalanche Information Center will be hosting FREE backcountry skills workshops March 12th and 13th, from 1-4pm at the Haines Library. We'll also be in Skagway March 19th from 9am-5pm at the Firehall. Come to learn/practice avalanche avoidance, beacon rescue, and a host of important wilderness skills.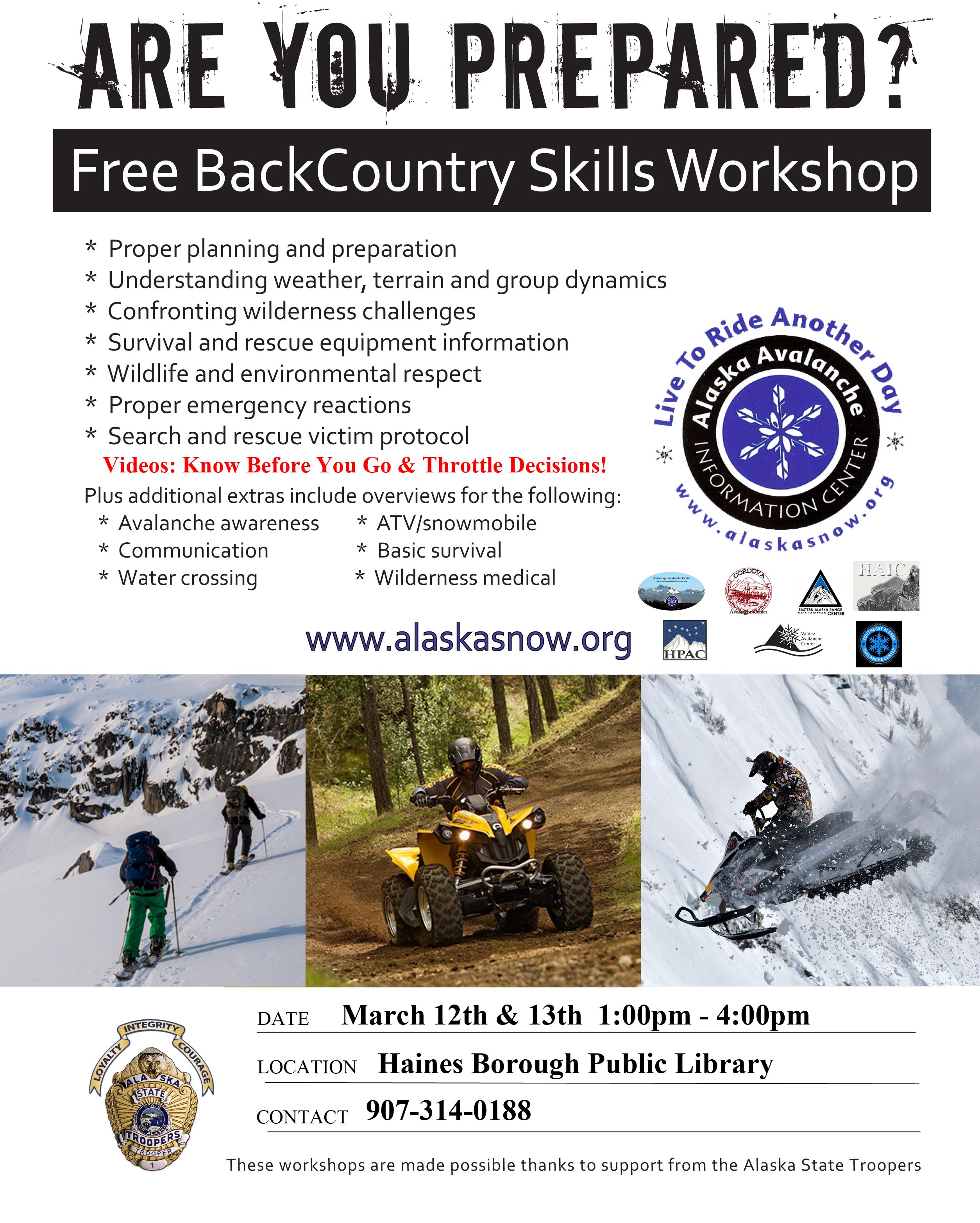 January 21st, 2016
The Haines Avalanche Information Center will be hosting community avalanche beacon practice events this Sunday and Tuesday. Meet at the Haines library to learn and practice companion rescue skills for avalanche terrain. Bring your beacon, shovel, and probe! That's this Sunday the 24th at 1pm, and Tuesday the 26th at 5:30pm, both at the Haines Library.
January 5th, 2016
Watch out for the Hoar! The weather is great and new storm snow has had a few days to settle. But we're getting reports of skier-triggered avalanches on the Dec. 7th surface hoar layer (30-80cm deep), including a remote trigger on Nadahini. This layer will be persisting and skier-triggered avalanches remain possible. Don't let the awesome weather give you a false sense of security.

All content copyright Alaska Avalanche Information Center